Phase 1 - The three most innovative business ideas!​
31 teams from 3 countries took part in the first phase of the competition and submitted their business ideas. The majority of the projects (15) came from the field of Medical Technology, which emphasizes its growing role in the Austrian Life Science landscape.

White and Red Biotechnology were represented by five projects each, followed by Supply and Service Applications with three projects. Finally, Green Biotechnology was represented by two projects, ad one project was classified as Biotechnology in general.​
42 experts from such fields as Science, Financing, Intellectual Property, Marketing and Industry evaluated the projects and selected winners of the Phase I. The valuable feedback, provided by the evaluators, will help the teams to improve their business ideas and reach their final goal - implement their business plan as a Start Up. ​​
On April 27, 2017, the three winner teams presented their ideas to the public and potential investors and received a cash prize of € 1,500 each at the Award Ceremony, held at Ocean´sky - Haus des Meeres.​​
The winning teams:​​
NP Life Science Technologies KG (Austria)​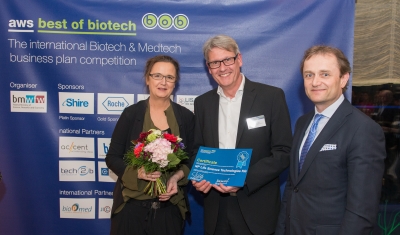 mplantable degradable scaffolds with parallel micro-channels supporting a faster regeneration of traumatized nerves in the organism by facilitating an oriented growth of the nerve fibres. NP Life Science Technologies KG develops and produces an implantablebiodegradable scaffold that supports the regeneration of damaged, dissected, cut peripheral nerves. It has a length of several millimetres and consists of numerous parallel aligned microchannels with a diameter of a 100-200 µm. Thus, the scaffold resembles the extracellular matrix of a nerve. It gives immediate growth guidance for micrometre large regenerating nerve cells and protrusion from the proximal to the distal nerve stump. Benefits for patients are a faster regeneration of damaged peripheral nerves due to existing growth guidance, going along with a fast recovery and a sustained quality of life. The health care system and labour market profit by shorter medical after-treatment, faster reintegration in the labour market and less occupational redeployment.​
SODISENS (Austria)​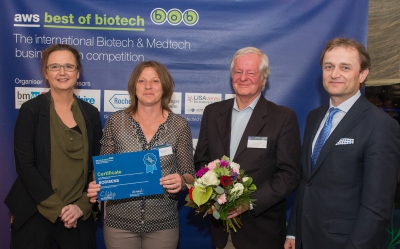 SODISENS is a new, portable, non-invasive point-of-care test for the rapid identification of body sodium status disorders, a health issue affecting up to two billion subjects worldwide. Disorders of body sodium (Na) status are significant health issues affecting up to two billion subjects worldwide. At present, Na-status is assessed invasively by measuring Na-concentration in blood plasma. SODISENS provides a new, non-invasive point-of-care test (PoCT) that enables the rapid diagnosis and therapeutic monitoring of Na-balance. The PoCT is portable and easy to handle, and therefore accessible and performable at any time by medical personnel or by the patient him/herself. Such an easy-to-perform on-site test allows patients highest mobility and flexibility, while reducing the risk of severe complications that may result from Na-balance disorders. For the health care system, this means reduced number of patient visits and costs.​
​
Vacthera - UniFluVec (Austria)​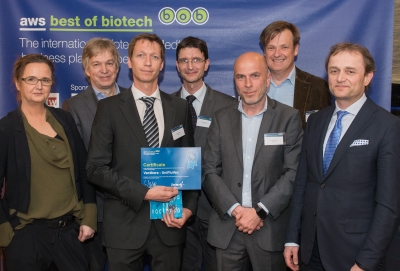 Vacthera is a biotechnology company developing influenza virus based vaccines and cancer immunotherapies. Vacthera is a biotechnology company developing influenza virus based vaccines and - cancer immunotherapies. Vacthera's patented platform technology allows genetic modification of the influenza virus to be used as safe but efficient prophylactic vaccines against various diseases or as therapeutic vaccines against cancer. Although our platform technology allows generation of vaccines for a number of infectious diseases including influenza, RSV, herpes or tuberculosis (unpublished), Vacthera intends to undergo first preclinical development for two initial products, namely a universal influenza vaccine and an oncolytic virus. UniFluVec is a universal Influenza vaccine allowing the efficient protection against various influenza types and subtypes. OncoFluVec is an anti-cancer vaccine (oncolytic influenza virus) allowing immunological destruction of cancers. Both products will be produced to high yields in embryonated chicken eggs and purified by a Vacthera's proprietary technology.​